How to edit or change the status of a job
Once you have created your job, you can edit your job details or change its status at any time.
Knowing how to change the status of your job is very important. Once your job goes live, there may be quite a lot of interest from SSAA members wanting to help. It is advised that you monitor your job and when you receive a sufficient number of applicants to filter through, that you change the status of your job from 'Current' to 'Pending'. This will remove the ability for other members to apply for your job, and gives you time to work through your current applicants to choose the right person. Learn more about this on our How to manage replies to your job section.
How to do it:
1. When logged in, click the 'Profile' button located in the top right corner.
2. Click the 'My Jobs' button, then click the 'Edit' button relevant to the job you wish to change.
3. Change the 'Job Status' field.
4. Click the 'Save Job' button after making any changes.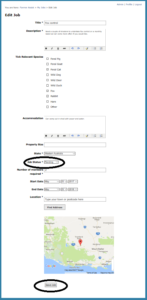 Once you have communicated with and selected a member(s) to help you with your job, you should once again update the status to 'Closed'. If your job is a once-off job, you can also select 'Complete'. If you no longer require a job to be done, you can select 'Cancelled'.
By updating the status, you will control the number of members applying to your job, thus reducing or stopping new email notifications arriving in your inbox. If you were unable to find the right person, all you need to do is change the status back to 'Current' to receive new applicants again.
The 'Profile' page also gives you the ability to amend your contact details or email address, change your password and disable your account.
Save