The behaviour and performance of our members is very important to the SSAA to ensure that this program is running as it is designed. We do not accept poor behaviours or standards.
The portal provides an opportunity for farmers to rate individual members to ensure that there is opportunity for feedback to administrators and give future farmers an additional tool to help select applicants for their jobs.
If a matter arises that a farmer wants to share directly with administrators they should send an email to farmerassist@ssaa.org.au for attention. Depending on the matter detailed to us we may choose to directly respond with you for more information and/or resolution.
To give an individual member a rating, you need to do this though your 'My Jobs' page. By clicking on the applications received number (highlighted below) you can then see all applications that you received for that particular job.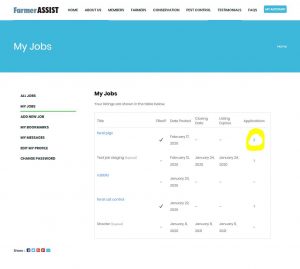 To make things easier, we suggest that you utilise the 'filter by status' function and select the 'Selected' option. This will display only those members that you identified as selected for the job. By clicking on the pencil-like icon, this will display the rating function seen below. By entering a rating from 1-5 and then saving changes, the member will receive a star rating from you. Over time, a member who has been rated more than once will display an average rating in which other farmers can use to help make decisions on who to select for the job.